I've been getting in to tea subscription boxes recently, I love the convenience of not having to look for new and exciting tea and just having it arrive once a month. It's perfect as a tea blogger to have the tea found for me and to find out about a handful of new tea companies each month, it's difficult to explore new tea companies if you just want to sample their tea without a big order so this really works for me.
True Tea Club emailed me to see if I'd like to review one of their tea subscription boxes. I jumped at the chance and waited eagerly for the box to arrive 😀
Each month True Tea Club send 4 carefully selected teas, the box fits straight through your letterbox so you don't need to be in when it arrives. It's particularly convenient that you can also buy more of any of your favourites from each box, directly from True Tea Club. Another nice touch is the option of three tiers of subscription, with either 40, 60 or 80 cups in each months box.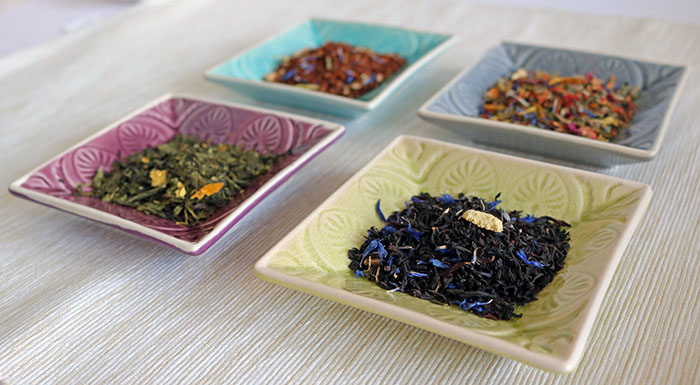 On to the Review!

Rainbow Chaser
First up is a beautifully colourful, aptly named fruity tea. The tea looks stunning loose, with bright and exciting colours and smells delightfully fruity but fresh with a hint of mint.
I'm usually not a fan of mint tea and really haven't found many I've liked but this was different. The flavour was dominated by a sweet Apple and strawberry flavour, with a nice floral hint and just the right amount of mint to add freshness, without being overpowering.
Overall Rainbow Chaser is a unique and enjoyable tea and I look forward to every cup 🙂

Mighty Mango
I adore mango and always find it's the perfect accompaniment to green tea so naturally I was excited to see this tea in my subscription box. As soon as I opened the packet a fresh and juicy mango fragrance erupted in to the room!
The mango is paired with a perfect amount of high quality green tea that creates a beautiful golden drink that I could sit and smell all day!
The flavour is a definite nice and crisp green tea with a pure taste, that's blended superbly with sweet mango. I really LOVE this tea 😀

Vanilla Cupcake
Vanillas is always an exciting flavour that I find pairs well with almost all tea and what could be better than vanilla cupcake flavoured tea?:O
I'm a big rooibos fan so I was excited to taste this blend and it was as good as I hoped! The sweet nuttiness of the rooibos is the perfect partner to the cakey vanilla flavour. It's the perfect caffeine free blend to curl up with at night and watch a film or in my case play Tomb Raider 😉
I always find rooibos is really economical so this blend goes a lot further than the others. All in all Vanilla Cupcake is an awesome tea that I'm sure every rooibos fan will love!

Earl Grey Rebel
Earl grey is a tea that's a strong favourite among tea fans but I kinda feel it's a bit played out but I was excited to see how this one compares to others I've tried. I find a lot of Earl Grey is overly flavoured and you lose the beautiful black tea flavour but Earl Grey Rebel is expertly blended and manages to successfully retain the malty black tea flavours I love.
It does have a definitely noticeable citrusy bergamot flavour but not to the point that it's like drinking a scented candle, which many I've tried recently have been. The scent of this tea is also very appealing and matches the name of the tea well. This is certainly one of the better Earl Grey's I've tried recently and I'm sure Earl Grey fans will adore it!
Final Thoughts
My time with this month's True Tea Club subscription box has been thoroughly enjoyable. I love the convenience of the service and that I can easily order more of the blends that I love.
You get empty teabags with each box for those moments when loose leaf is too much hassle, making it great for anyone who's new to the wonderful world of loose leaf tea. Each box comes with a brewing guide as well which has the brewing temperatures for each tea, they True Tea Club really did think of everything! 🙂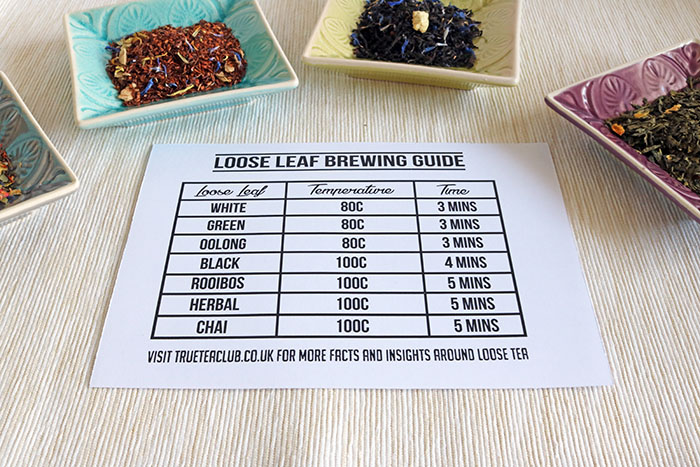 You can get 50% off your first subscription box with True Tea Club by entering LOVE at checkout, meaning you can try your first box for as little as £5.00! You can subscribe easily on the True Tea Club website.
Thank you so much for taking the time to read my review, if you've enjoyed it please join my mailing list below or come and find me on Twitter, Facebook or Instagram.
Thanks also to True Tea Club for sending me this months box to review, I've really enjoyed it 🙂
Bye for now! xXx
Join my mailing list for more tea reviews, competitions and recipes 😀