Hey Guys!
A short while ago I was sent some tea by Tea in the City for me to review. I received two blends, both black but worlds apart!
The tea arrived beautifully packed in stunning matte white and matte black tins, opening them really felt like an experience 🙂  The tins were well sealed and look great standing together on my tea shelf, another nice feature is a plastic lid with a pull tab under the lid of the tin which really helps to keep the tea fresh.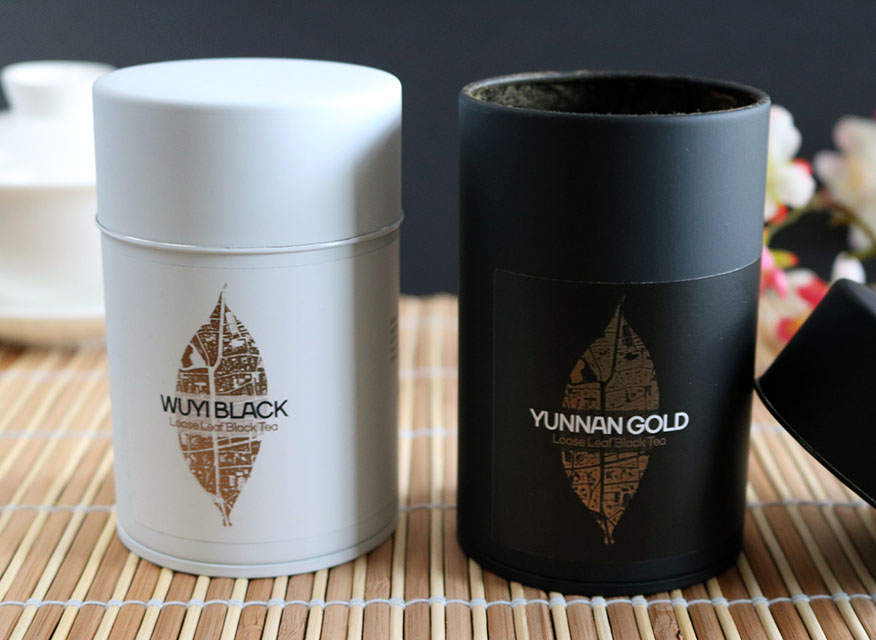 Yunnan Gold
This tea is quite a high end tea with a malty flavour with hints of cocoa. The first thing I noticed about this tea is it's appearance, it doesn't have the usual dried black leaf that you find in most black tea, instead it's composed of larger less dense fine golden leaf buds. The tea is quite spaced out in the tin and as a result it has less in the tin than the Wuyi Black but the leave's larger size allows them to really open up when the water hits, so a little does go a long way.
The smell of this is really incredible, as soon as you open the lid it fills the room. It's one of those teas I find myself asking everyone to smell and then everyone always asks me if I can steep some for them, it's such an inviting fragrance. I find it has a nicely complex flavour that's deep and malty with a cocoa after taste, definitely a tea I can just drink all day!
Wuyi Black
The second tea included by Tea in the City is Wuyi, a black tea from the Wuyi mountains. I have a bit of an obsession with teas that are deliberately flavoured with other ingredients, anything from fruit to chocolate. The most surprising part of Wuyi for me is how amazingly flavoured it is, without any other ingredients. Upon opening the tin a Turkish Delight-like smell erupts in to the room, a sweet floral aroma that I can only describe as addictive.
The flavour has a delicious deep black tea flavour but with an indulgent rose flavour alongside it, I'm not usually even a fan of rose flavours but I just can't get enough of them in this tea. The tea steeps to a beautiful almost red, copper colour, making it perfect for glass teaware and it's a tea that will be welcome at any social gathering.
I've been hiding away from the cold with Netflix recently in the evenings and found this tea is the perfect companion to snuggle up with!
I've thoroughly enjoyed my time with these teas from Tea in the City. All the way from the packaging, through to the aroma and flavours, these teas really do add a touch of class to an evening.
If you haven't already had a look at the tea available from Tea in the City I really recommend it, you can find them on their website.
A huge thanks to Tea in the City for sending me their teas to review, it's very much appreciated 🙂
Thanks very much to all my readers, come say Hi on Twitter, Facebook or Instagram for more tea fun or leave a comment below!
Bye for now! xXx