Today I'm really excited to share two new teas with you that have been sent to me by Tea in the City. They're both herbal blends that are super unusual and completely different to anything I've tried before.
Both are unflavoured, not blended and completely natural. The first is Cranberry Leaf, made using the bud and leaves of the cranberry bush rather than Camelia Sinensis. The other is Rosebay Willowherb another caffeine free blend that is mildly sedative, making it perfect for bedtime drinking.
As always both teas were beautifully packed, every element of Tea in the City's tea is high quality and a joy to open!
This review is also the perfect opportunity to show you latest teacup, I bought it with a gift card my boyfriend gave me for my birthday and have been saving it for a special tea review 🙂
On to the review!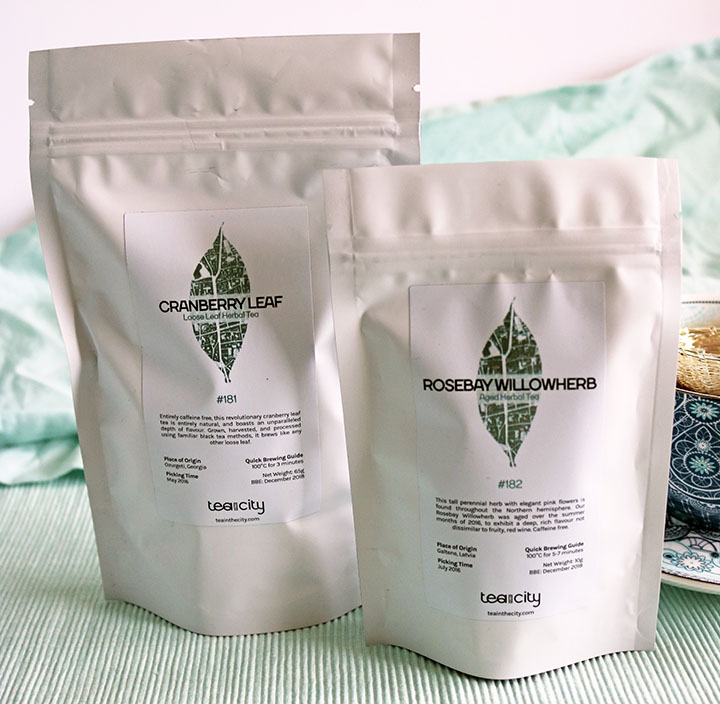 Cranberry Leaf
As soon as I open this tea a sweet, floral fragrance drifted from the bag. The smell has a rose-like vibe but also really fruity.
Upon steeping the tea I found that the leaf opened up beautifully in my teapot and a malty aroma began to emanate. A little of this tea goes a really long way so it's definitely a very economical blend, especially as the price is extremely reasonable for a product of this quality.
I love this teas delicate malty flavour, with a floral sweetness that dances around your mouth. It has a velvet smoothness to it which is really comforting and thoroughly refreshing.
It's also remarkable just how much flavour this tea has while being completely unblended and unflavoured, it really is a wonderful tea!

Rosebay Willowherb
This tea is equally as exciting but with a completely different flavour and aroma. It has more of a herby fragrance to it which creates a drier more savoury flavour.
I particularly love watching the vibrant purple flowers turn white as they steep, perfect to steep in glass teaware!
This tea has quite a dry feel but there's also a nice sweetness alongside the slightly tart fruity flavour. Tea in the City's website mentions that this tea is similar to fruity red wine, which I'd have to agree with but thankfully the flavour isn't as strong as red wine, I'm not much of an alcohol drinker 😉
Overall this tea is fantastically unique and genuinely exciting to try, it's different to almost any other tree I've tried and an awesome find by Tea in the City!
Final Thoughts
I found both of these teas extremely exciting, I always love to try new tea and these are two wonderfully unique teas. You can buy samples of these for as little as £1.50 on Tea in the City's website, perfect to try before you buy a larger pack, which you definitely will once you've tried them!
A huge thank you to Tea in the City for sending me these wonderful teas to review. A while back I reviewed their Yunnan Gold & Wuyi Black which were phenomenal, you can find that review here.
If you'd like to take a look at Tea in the City's tea you'll find it all on their website, their tea really is something special! 🙂
Thanks for taking the time to read this review. come say hi on Twitter, Instagram or Facebook!
Bye for now xXx
Join my newsletter if you enjoyed this review!