Recently I was contacted by Anthony from Matchæologist, he asked me to review their Matcha. He also sent me one of the most in depth emails I've ever received about matcha, I'll try and include some of his knowledge in this review for you guys 🙂
Anthony sent me their Misaki matcha which is their highest grade of matcha. As well as the matcha he was incredibly generous in sending me a handblown double walled glass chawan (matcha bowl) and a bamboo full hand chasen (matcha whisk).
The quality of the chawan in beyond words, it's stunning seductive curves are a work of art, my matcha drinking just got an upgrade! 😉 I'll definitely have it on show in my study between uses as it's way too pretty to keep in a cupboard! The double walls mean that your matcha stays hot for longer and that the outer wall is comfortable to the touch. Being glass means it looks incredible in photos, with the deep bright green of Matchæologist Misaki matcha shining through!
The Chasen is also beautiful, it has a longer handle and smaller prongs than the one I have been using, which is awesome because I can gain more movement and control when I'm preparing matcha in smaller vessels. The chawan and chasen combine magically, making matcha preparation effortless.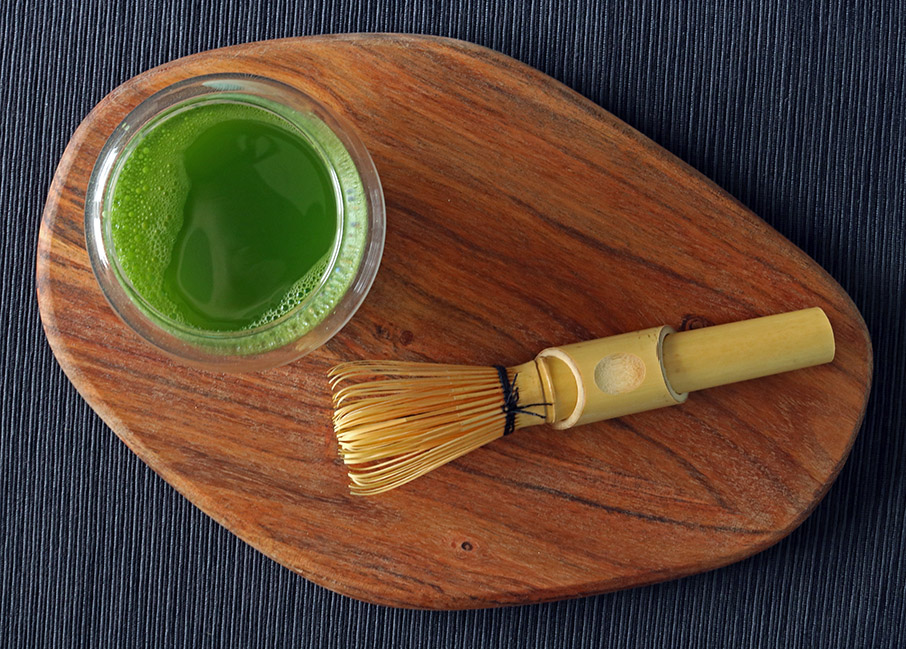 What Makes Matchæologist Misaki Matcha Different?
Before I go on to review the Misaki matcha I'll share some info about what makes it so special. Matchæologist only sells artisanal grade matcha, the kind that's been used throughout history in tea ceremonies, by buddhist monks and even samurai warriors! Matcha of this quality is achieved exclusively by hand; the tea buds are picked, rolled, roasted and even stone ground completely by hand.
The key difference with this matcha when compared to other matcha is the vivid green colouring and blue hues, this matcha is GREEN in a way I've never seen before. This colouring is achieved by using only the top buds of shade-grown tea trees, when tea trees are shade grown they compensate by producing more chlorophyl. The most tender parts of the shoots are picked and any veins or stems are removed. This results in a beautifully roasted fragrant matcha with a pleasant 'umami' taste profile that is a little sweet but still has that exquisite savoury flavour that all matcha enthusiasts crave.
Matchæologist's process outlined above also causes the tea trees to be higher in L-theanine, the amino acid that contributes to the mental clarity that matcha drinkers love, as well as a host of other health benefits.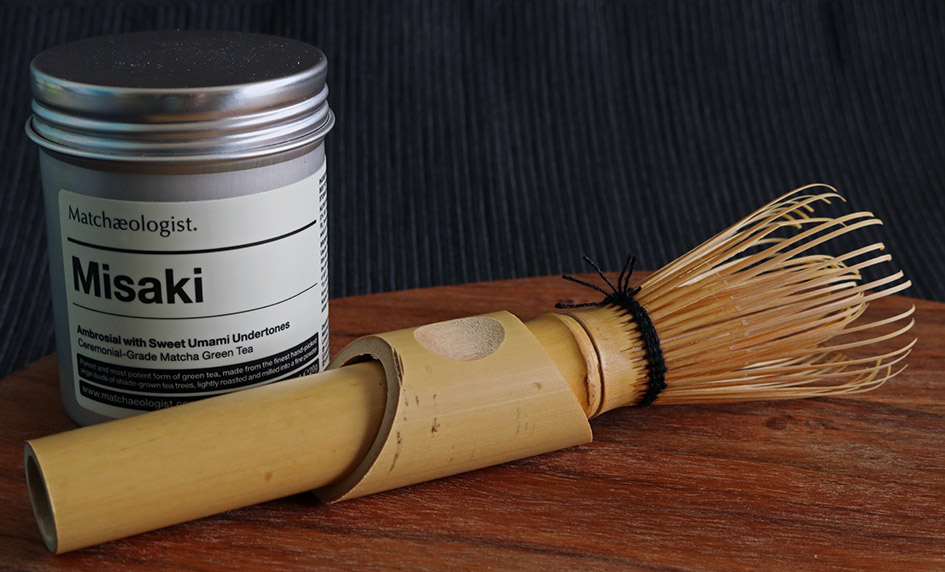 My Thoughts
The packaging is beautiful, each item came in a cute canvas drawstring bag, a lovely touch. The Misaki matcha comes in a little metal tin and inside is a foil bag that is sealed so the freshness of the matcha is guaranteed. You simply open the packet and carefully tip it in to the tin which screws shut to provide airtight storage.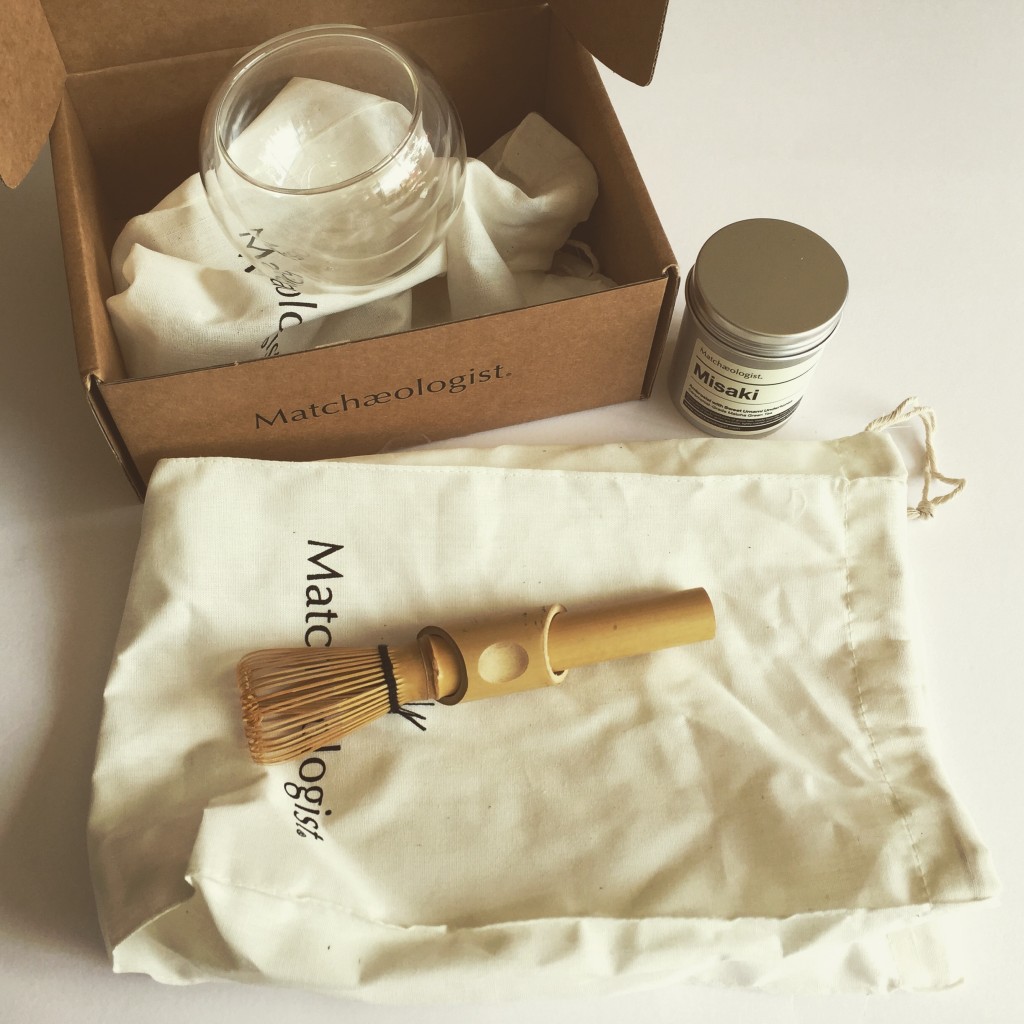 Straight away I've gotta say that this matcha is phenomenal, as soon as I opened the Misaki matcha I couldn't believe the colour, it's so unbelievably green and the smell is fantastic. It froths up beautifully, it almost reminds me of bubble bath with a thick layer of froth in every batch, once prepared it's a bold deep green colour.
The first thing I noticed is there's no bitterness, a lot of matcha has a bitter taste to it which I believe is what puts some people off. This has the savoury roasted flavour that matcha lovers crave but the noticeable difference is a succulent sweet aftertaste that I've never experienced before. It offers an addictively complex flavour with the perfect sweet/savoury balance, leaving you looking forward to each and every sip.
The mental clarity and alertness experienced after drinking Matchæologist's Misaki matcha is also noticeably improved compared to regular lesser matcha. It's awesome to get a good hit of it just before a study session or to get the creative juices flowing!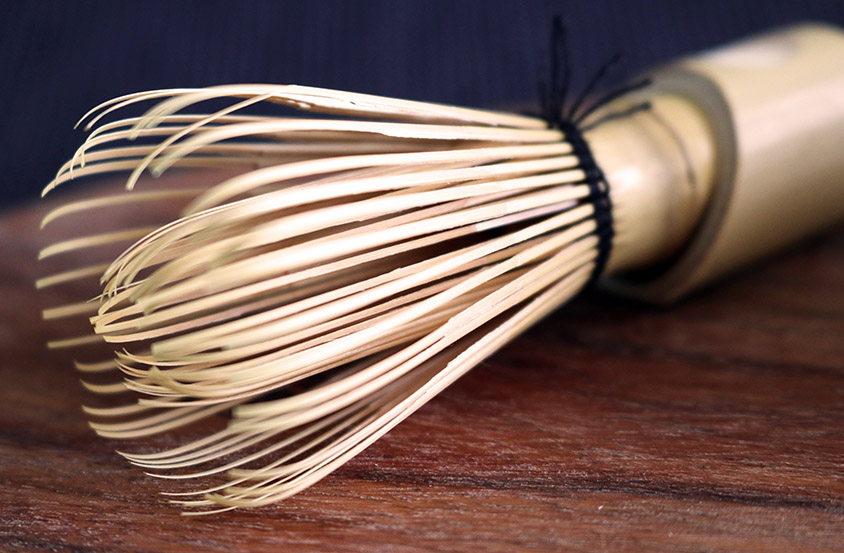 So that's my review of the wonderful experience of Matchæologist Misaki matcha and the jaw-droppingly beautiful chawan and full hand chasen. It's been fantastic and I strongly recommend you check Matchæologist out. I'd like to say a massive thank you to Anthony for being so generous and sending me such amazing products!
I hope you guys enjoyed this post, if you did you can subscribe to my newsletter below. I have a pretty fantastic competition in the works that you'll definitely want to enter! 😉
Bye for now! xXx