Last week I was sent some new tea by Hope & Glory to review for you guys 🙂
They sent me 3 flavours which were Chamomile, Masala Chai and English breakfast. Also included was some of their loose Red Velvet tea.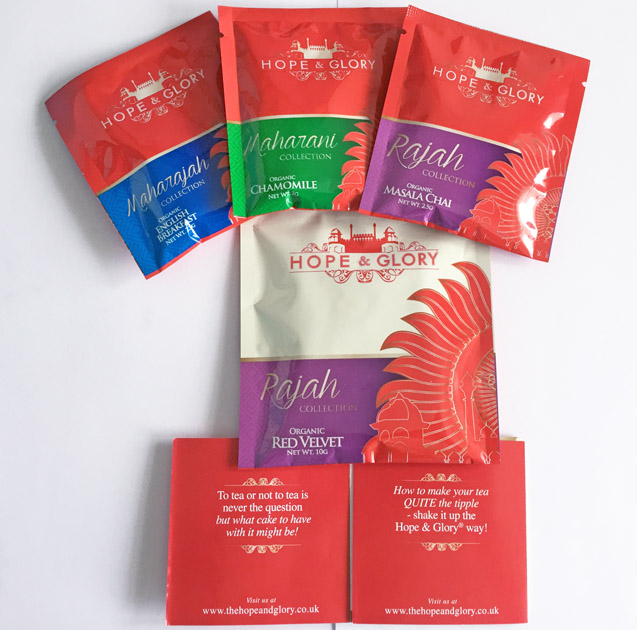 Chamomile

I started out with Chamomile which smells wonderfully floral and creates a golden yellow tea. I found this blend to be sweeter than other chamomile teas which aren't usually my favourite flavour, so this is a good improvement. The packet suggests adding a spoon of honey to sweeten it but I didn't really find this to be necessary. I was able to get two infusions out of one teabag which is pretty good going!
Chamomile is known for it's relaxing properties, making it a great tea for the end of a busy work day or before bed. I left some of the second mug of tea to try cold and it was really refreshing, making it a good choice for the spring.
Masala Chai
Next up is Masala Chai. As soon as I opened the packet the vibrant spicy punch bursted out. There's also a noticeable ginger fragrance which kinda reminds me of cola bottles, which I love. I have ginger fragranced shower gel from The Body Shop for the same reason 😉
While the tea is steeping a beautiful almost fruity smell fills the kitchen, perfect on a cold rainy day! I tried this blend with water first and then a second mug with milk, I preferred it with milk. The amount of black tea and spice is just right and it isn't overly powerful like a lot of masala chai, the Ceylon base is also really flavoursome.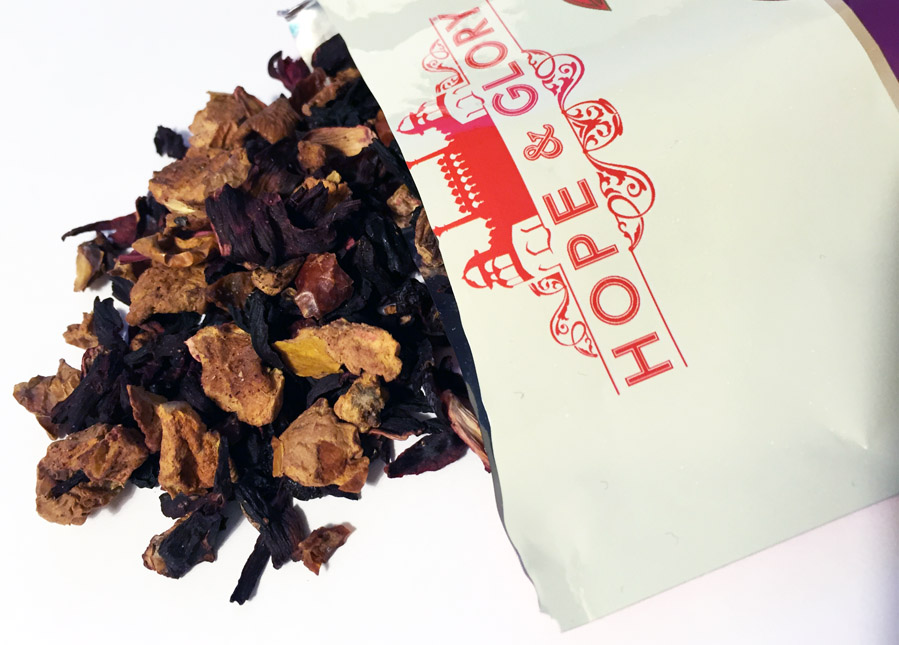 Red Velvet
I was really excited about this blend, I'm a bit of a red velvet addict and was excited to see if it was deserving of it's name. The strong berry fragrance that floats out of the packet is fantastic, it also has a slightly minty freshness to it, which is strange as it has no mint ingredients.
This blend produced a deep red colour the second the water was added and the fragrance took on more of a blueberry scent. A strong blueberry flavour was also noticeable in the tea, which is fantastic as blueberries are my favourite fruit! This tea goes a long way and I was able to squeeze a good few servings out of the sample pack. I like that this tea has a lot of flavour but without it being too sharp, I find some fruit tisanes are actually over flavoured.
English Breakfast
Last but not least! English Breakfast is a tea that I find hard to distinguish between different brands but this blend has a really deep malty flavour that's really moreish. I got a few infusions from one teabag which was cool, this allowed me to try the blend more than once. I never add milk to my tea and found that it didn't really require sugar either which is always a good sign. English Breakfast from Hope & Glory is a good all round tea that won't scare off your less discerning visitors like something more exotic might 😉
See Ya!
Thanks for taking the time to read my review, I hope you enjoyed it! 🙂 Let me know what you think in the comments below or if there's any other tea you think I'd like!
I'd like to say a big thanks to Hope & Glory for sending me their tea to try, check their website out.
Bye for now! xXx