When it comes to Christmas I love the little things, like the weather changing, people's excitement building, Starbucks limited edition treats and new bath goodies at Lush but most of all I look forward to the Bluebird Christmas exclusives!
This year sees the return of Christmas Cake & Snowball, which also has a much appreciated vegan option this year!
The new products in this year's Christmas bundle are Mulled Cider, Sugar Plum & some Bluebird crackers which I'm insanely excited about. Review time!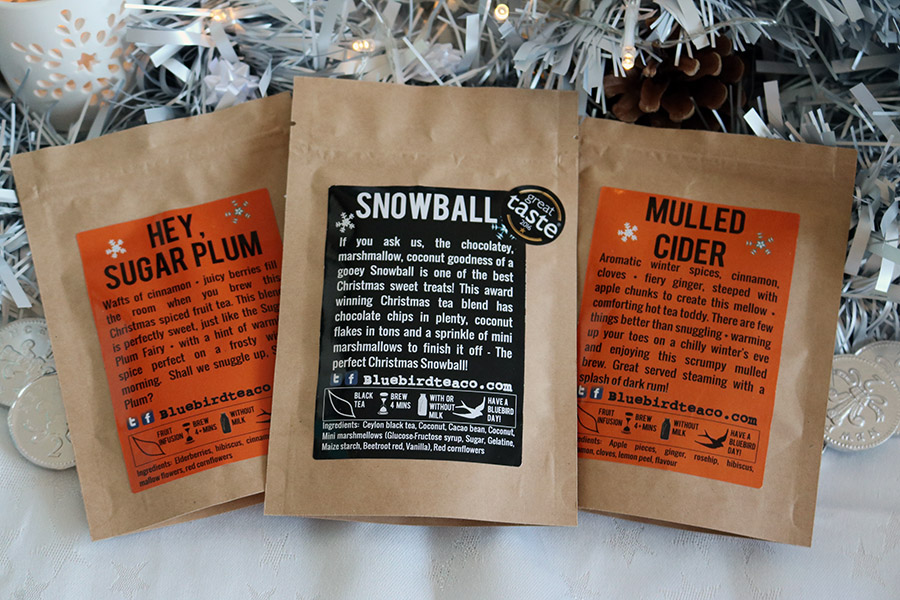 Sugar Plum
Sugar plum is a sugary sweet berry filled infusion with a nice warming hint of cinnamon. The blackcurrant in this blend really comes through, along with the hibiscus. The cinnamon is definitely there in precisely the right quantity, it's warming and festive, without it being overpowering.
It's a beautiful coloured blend once prepared, that's perfect to show off in glass teaware on the big day. The sweet cinnamon scent really travels and is sure to add a festive aroma to any gathering! 😀
Mulled Cider
This is a less sweet tea that I find super refreshing, it gives off an almost peppery scent with cinnamon notes but the apple & lemon peel create a drier more savoury vibe. Mulled Cider is perfect for cold Christmas evenings when you've devoured all the chocolate in sight but still want a little extra treat to snuggle up with.
I generally steep my tea multiple times during long work days and by the end it's often been a bit steeped to death but I found this tea is actually really enjoyable as quite a weak infusion, hot or cold.
Bluebird's Mulled Cider & Sugar plum are both caffeine free making them perfect to drink on those late night Christmas Netflix sessions, while remaining able to sleep.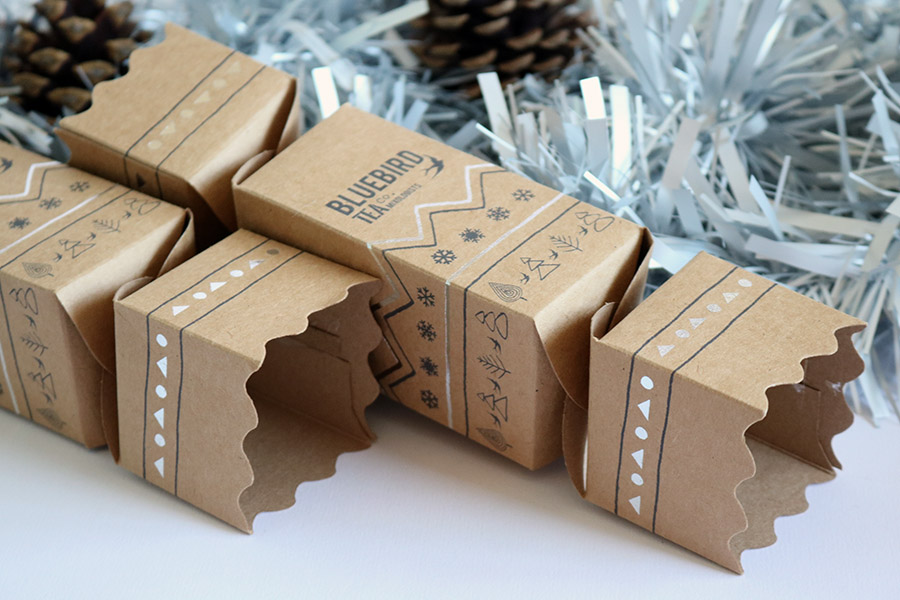 Christmas Crackers
These really are too cute! I love the silver foil effect against the brown and the rectangular shape is far more interesting than more traditional cylindrical crackers.
Each cracker contains an individually wrapped Bluebird tea bag, party hat and tea related joke. I decided I'd unwrap one of these without the 'snap' and have a look inside for the purpose of the review, then put it back together and save them for Christmas day, no one will ever know! Just like presents under a Christmas tree 😉
Final Thoughts
One of the things I admire most about Bluebird is their ability to capture the essence of an event or completely non-tea food in their blends. Mulled Cider & Sugar Plum really are Christmas through and through, with snowball as a chocolate-coconut treat and Christmas Cake completing their Christmas line up.
If you'd like to read a more in depth review of Snowball, Christmas Cake or many of the other Bluebird Tea Co. Christmas teas you can find most of them covered in last years hamper review.
Take a look at Bluebird's Christmas range to find the perfect treats for the holiday season, you won't be disappointed.
Thanks for taking the time to read my review.
Happy Christmas to everyone over at Bluebird HQ and to my readers! 🙂 xXx