A while back I went to the post office to collect a parcel and was given a box with Bluebird Tea Co. stamped all over it. I wasn't expecting anything from them so I was instantly intrigued and massively excited! I opened the box and inside I found an incredible Christmas hamper full of tea! I was absolutely blown away, I'm sure anyone who receives one of these hampers will be equally blown away but it was definitely an OMFG moment! :p
The hamper included a selection of Bluebird's finest Christmas gifts, which included 2 boxes of tea, a canvas Bluebird Tea Co. tote bag, an extending silver tea infuser, a tea bauble (so lovely!), a mulled wine cocktail kit and a Bluebird Tea Co. mug. The sweetest part is they even personalised the mug with my name, my first mug with my name on it! I'll go through the tea in a bit more detail below but I'll say up front, these teas are phenomenal!!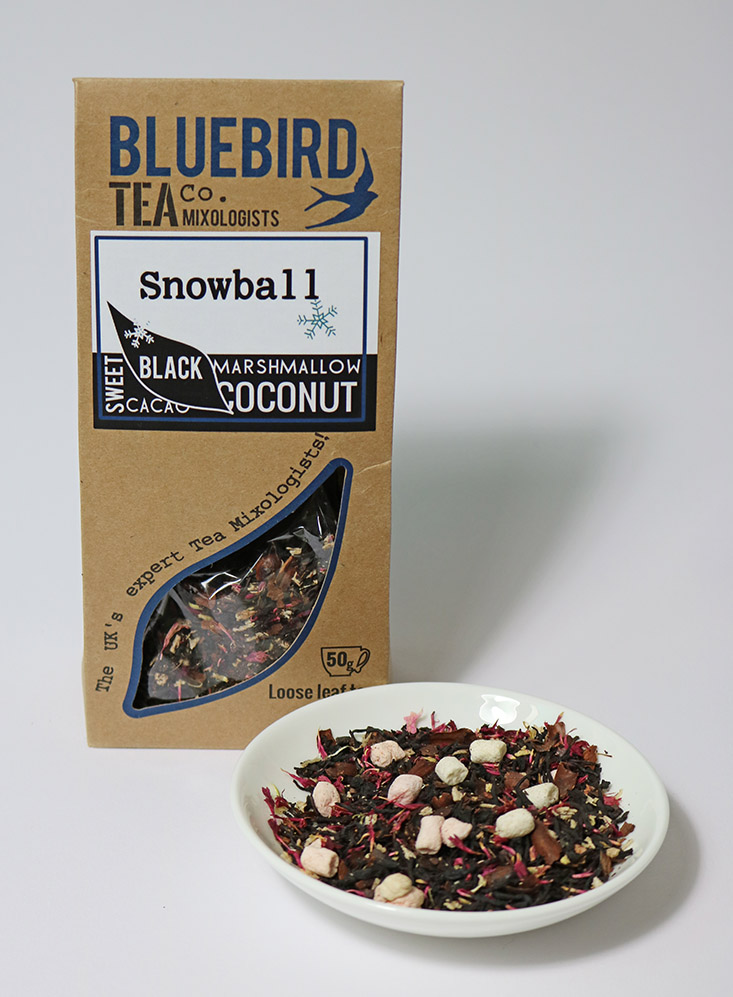 Snowball 50g Box of Loose Tea
The first tea I tried was Snowball, a chocolatey marshmallowy black tea treat with a hint of coconut. This tea feels like a dessert, it's actually really helped having it on hand with the run up to Christmas as I tend to become a bit of a chocolate fiend but this satisfies my sweet tooth! I often find with basically all chocolate tea I've previously tried, that the tea isn't actually chocolatey at all but this is totally different, there's actual chocolate chips and you sure can taste them! I did actually pick the marshmallows out as I'm vegetarian and my boyfriend is vegan but I've been saving them so my mum gets extra when I make a cuppa so her tea is even naughtier!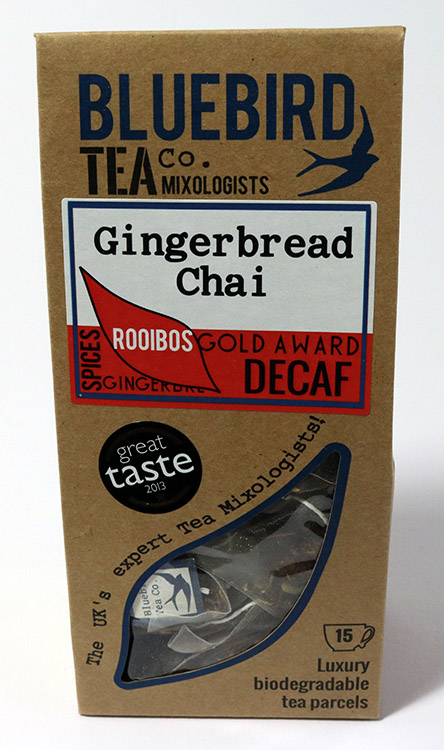 Gingerbread Chai
Gingerbread Chai is a winner of a Great Taste Award and I can really see why. It's a rooibos base and tastes phenomenal, my hamper contained tea bags and they go a long way! I have a HUGE Batman mug, I love to come in from the cold and fill it with Gingerbread Chai; Batman mug, Yoda slippers and my dressing gown and I'm all good!:P The Ginger warms the back of your throat and just the right amount of cinnamon is there for a little kick, this is a tea you just have to try. I've been trying to build up my collection of caffeine free tea as I do a lot of my tea drinking at night, often in to the early hours of the morning so this tea's just perfect.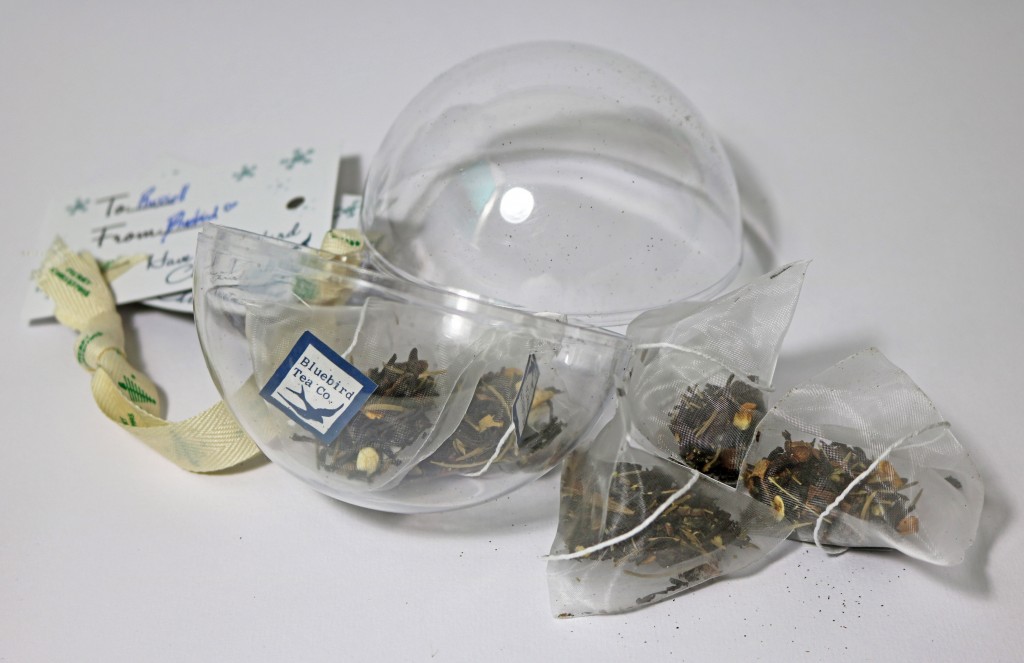 Christmas Cake Tea Bauble
This is something I found so exciting! It's a plastic see-through bauble filled with teabags. I hung it straight up in my study and while I'm working I reward myself with some Christmas Cake tea every time I finish a chunk of work. Apart from the inventive packaging the tea is beyond words, it really does taste of christmas cake but sweeter with a beautiful marzipan flavour from the almond and a warming orangey fruitiness. It also has little snowflake shaped candy pieces, where else would you find tea this cute?! 😀
Mulled Wine Kit
This would make the perfect gift for anyone who likes mulled wine, it's so nicely presented and easy to make. I'll be honest, I haven't actually ever had mulled wine so this was a first for me, a bit of a complication is I don't/can't drink alcohol so I found a non-alcoholic red wine
 to use instead 😊
The bottle contains all the spices and fruit you'll need for the perfect mulled wine so you just add your red wine, leave for 48 hours and then simmer on the stove, strain and serve to guarantee that Christmas feeling!
I added more wine at the simmering stage to make the spices less intense but the result was fantastic! A beautifully sweet taste followed by a mouth warming hit of festivity!
The Extras
Also included in the hamper is a super cute Bluebird canvas tote bag, it couldn't of come at a better time, with this 5p per bag business beginning! I keep it at the bottom of my manbag ready for my shopping. There's also a really kool tea infuser, it's telescopic and compresses to about 1.5cm thick, then it extends in to a full size tea infuser and with a classy chrome finish. Last but not least is a Bluebird Tea Co. mug with a festive bluebird, the lovely guys and gals at Bluebird also added my name to the mug which is so lovely <3
Overall this hamper is simply gorgeous, as are all the Bluebird Tea Co. Christmas gifts, they have a lot more to choose from at different price points so there's something for everyone. I'll be placing an order soon for some presents for my Boyfs parents and to stock up on more of the Christmas tea while I can, I have a feeling I'll be drinking Christmas tea well in to the new year! 😉
I really hope you guys enjoyed reading this and I urge you to go and find the perfect Christmas present from Bluebird Tea Co.. One of the gifts I think would be particularly lovely are the tea blending kits, they contain 6 tins of tea ingredients and recipe cards for you to make your own blends, heaven! You can get the exact hamper in this review here, it's a gift your loved one will never forget! 🙂
I'd like to say a HUUUUGE, MAHOOSIVE  thank you to Bluebird Tea Co. for sending me this incredibly generous gift, I'm so so thankful. I'll be coming to Brighton in the new year so I'll be sure to call in and see you guys! 🙂
Merry Christmas to all my readers, friends and fellow bloggers who read this! I'd love to hear about any other amazing tea Christmas gifts you've found in the comments below or come find me on Twitter!
Oh one final note, you know you wanna be on my mailing list! 😉